Diabetes robs latinos of prosperous lives
Blindness, kidney failure, blindness,problems and amputations, wreak havoc in the community; Patients and healthcare struggle to control this disease
[Puede leer esta misma nota en español aquí]
Diabetes first took Armando Salgado's energy, then his eyesight, then his left leg below the knee.
It was amputated in 2016 and the 57-year-old is now fighting, along with a team of doctors, to prevent his right leg from suffering the same fate.
"You don't start taking care of yourself until the disease is advanced," the native of Mexico laments as he sits in a medical room where a doctor just finished checking him.
According to the American Diabetes Association, in 2015 there were about 30 million Americans with the disease and about 3 million of them were Latinos, an ethnic group with a higher prevalence of suffering the illness than Caucasians.
Under control, with proper exercise and diet, doctors have long said that diabetes does not pose major problems for the afflicted with it. The message is that they can live long and prosperous lives.
But the reality for Latinos in the United States can be far different. Many admit failure to take personal responsibility for the disease. They contend with spotty access to health care, a lack of recreational spaces needed to exercise, and a cultural disinclination to take their medicine and change eating habits.
They pay the price for neglect, devolving kidney failure, blindness and amputation of their extremities.
Salgado was first diagnosed at the age of 30 in his native Mexico City, but he admits that he did not "take care of it." in those younger, more freewheeling, days.
"I liked drinking, smoking, going with the girls," , he says.
Even when he started to feel worse after moving to Los Angeles, he didn't pay sufficient attention to what the American doctors prescribed.
"Once, I went to the clinic and they gave me some pills and I didn't take them," he says. "I said 'nothing's going to happen to me.'. That (diabetes) only happens to people who are thinking about it."
Since he neither changed his diet, nor took care of his sugar levels, diabetes has been undermining his life and slowly destroying his body.
He sees very little out of his left eye. "With the right eye I just look fuzzy," he says of the vision problems that began in 2014. The inability to see clearly made it impossible to work. Now he depends on his wife, who works at a hotel, to take care of the family.
For the last four years, his life has also been put on hold for dialysis sessions three hours, three times a week, because his kidneys don't work.
But the worst, he says without hesitation, was the loss of one of his leg.
Amputation
About the time he began dialysis, his feet began to swell and he fatigued quickly.
His mouth was dry and he constantly had to urinate. He was losing weight without being able to control it. He dropped from 240 pounds to 160 in a few months.
Eventually, Salgado fell into a diabetic coma, the first of two he's suffered since 2014.
He emerged from the coma with no damage to his brain, but the loss of circulation to his lower extremities was already irreversible.
"My toes (on the left foot) became black and then the heel" also got hard, he recalled.
The doctor he went to told him he could do little to control the progression of the problem in his foot and eventually recommended amputation of his left leg from the knee. The procedure was done in 2016.
"It feels very ugly. It's embarrassing. You're unbalanced," he says.
Today, he sometimes uses a wheelchair, or a prosthetic left leg, which allows him to stay mobile with the help of a cane.
According to the American Diabetes Association, 73,000 lower-limb amputations were performed in adults over 20 years old diagnosed with diabetes in 2010. Sixty percent of these type of amputations are the result of theis disease.
A 2014 study from UCLA showed that minorities and those who live in low-income communities are 10 times more likely to have amputations than the general population.
But the bad news didn't stop there for Salgado lives in the area of Pico Union, close to Downtown Los Angeles and earned minimum wage working at a supermarket before his condition left him unable to work. And the bad news isn't over.
His right leg is also becoming useless.
A bad cut under his right big toenail did not cure properly, and the infection ended up costing him two toes on the right foot.
There is a sore in the heel that is still being treated. The entire right foot is now bandaged and in a protective boot.
"When you've had an amputation, you have an 80% chance of a second amputation in the next five years and to die in 10 years," warns Dr. Stanley Mathis, co-director of the Center for Limb Preservation and Advanced Wound Care at Adventist Health White Memorial in Boyle Heights, where Salgado has been treated for a year.
Mathis and his multidisciplinary team are trying to save Salgado's right foot, as they do with the thousands of patients who come to this center. A large porcentage are Latinos who suffer from diabetes.
"We're trying to limit the level of amputations. We don't want them to lose a foot or a leg. If you lose a toe, we can live with that," says Dr. Mathis of treating for patients like Salgado.
He explains that the advantage of this center is that they have all the specialists – from gland and hormone specialists, to neurologists, and vascular and infectious disease specialists – under one roof.
"Here we handle the total health of the person. What we're trying to prevent is that they end up
in the emergency room," he emphasizes.
Saving limbs
Dr. Theodore C. Friedman, head of the Department of Endocrinology at the Martin Luther King Jr. Hospital Health Care Center, says diabetes creates circulation and other problems. The high blood sugar found in diabetics can result in the infection of even minor wounds.
"High levels of sugar allow bacteria to develop more, it's like food for them," says Dr. Friedman.
Raúl Rodríguez, 69, has a troublesome wound on the heel of his right foot. He was diagnosed with diabetes 15 years ago when he says he suffered a "scare."
He explains he first began to feel "burning" in his heel when he walked, and then the skin started to crack.
Three months ago "I started with a little cut" and now it's a "hole" the size of the tip of a pencil, he describes.
Since then Rodríguez has been treated at the Center for Limb Preservation and Advanced Wound Care and his prognosis is good, says Dr. Mathis.
The proper treatment of these wounds is extremely important, because otherwise, they may lead to infection and, unless doctors can stop it, amputations.
Treating the wounds on a foot is also much cheaper than an amputation.
This treatment costs between $7,500 and $20,600, according to the Podiatric Medical Association of the United States (APMA). In comparison, the amputation that results from not treating that wound may cost from $70,400 to $500,000 during the patient's lifetime.
A study done by APMA last year showed that California would save between $7.5 million and $16.9 million for Medi-Cal patients only, if these foot wounds were appropriately treated and amputations prevented.
But all that money is nothing compared with the emotional cost to the patients.
"Having amputated (the right leg) under the knee, I think emotionally he would have given up," says Dr. Mathis of Salgado's case. "Saving his foot motivates to keep going."
Indeed. Salgado, – a fan of Chivas de Guadalajara soccer team, laughs often and tries to stay active.
His wife is the "chauffeur" of his wheelchair when they go out, and "I spend my time listening to my (favorite) old songs," he says of how he spends his life today, as he can't work.
"I'd rather laugh than be upset. It already happened to me," he says.  Does he regret not taking care of himself?
"He says yes quickly, but adds promptly, 'Lo bailado ¿quién me lo quita?'" (Which translates to: "I've already danced and who can take that away from me?).
And he offers a simple recommendation to prevent other diabetics from suffering.
"Take care. This is not a game. It's a silent cancer."
40% Percent of Latino Diabetics Undiagnosed; Wellness Center Offers Education, Treatment
The first battle in the fight against diabetes is for patients to take ownership of their diet and exercise habits.
According to the Latino Coalition for a Healthy California, 42% of Hispanics statewide do not even know they suffer from the disease, let alone how to tame it.
Enter the Wellness Center at Los Angeles County+USC Medical Center, which has established Latino-themed outreach efforts to both diagnose and treat the disease in the Latino community.
One of the most active efforts at the center, located on the campus of the old General Hospital, is weekly diabetes classes offered by L.A. Care, a health care system that works in partnership with the hospital.
These workshops take place every Monday between 1:30-3:30 p.m. and cover everything, from the blood sugar levels that make someone diabetic, to healthy ways of cooking to get back on track. The center also has yoga classes and, group walks.
It's been 10 years since Juana Martínez was diagnosed with diabetes, and six months since she's been coming to the center.
"When I was diagnosed, I did not have enough information. I thought it was something  transient," she said during a recent class with registered dietitian Bernadette Mejía.
"When I came (here) my A1C was 9.2," says the El Salvador native, who is now versed in the medical terminology of her illness.
The A1C test measures average blood sugar levels over three months. The higher the number, the more likely it is to have serious complications of diabetes.
Today, her A1C level is 7.2, thanks to the cooking, yoga , and aerobics clases she takes at the center. That level is considered diabetic.
"Everything was helping a little bit," explains the 54-year-old woman. "I used to eat everything," says te 54-year-old. "B I didn't even know what carbohydrates were."
Doctors have told her that if she keeps improving, they may take her off the medicine she is currently prescribed.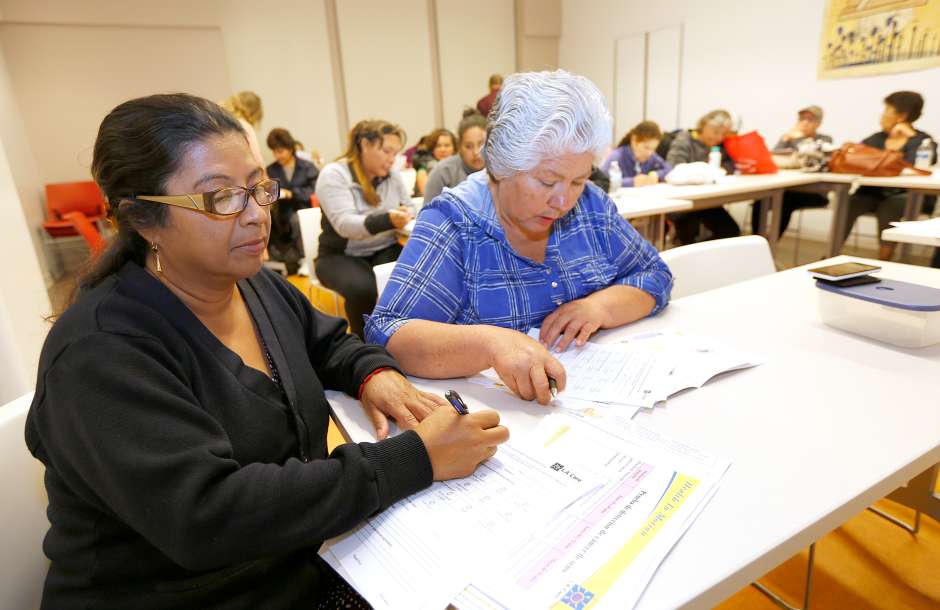 The person who invited Martínez to the center was Alicia González, 60, who has been taking classes there for more than a year.
When she first started, she was taking high doses of cholesterol medication, as well as pills for high blood pressure.
She had reached 318 pounds and her doctor told her he would she may need a gastric band surgery, where an inflatable band is placed around the upper portion of the stomach, in order to limit the amount of food consumed.
"I didn't want to have surgery," she said. "We all know what we have to eat and not, but until we're scared, we don't take action."
Thanks to the exercise, nutrition and cooking classes she takes at the center, González has lowered her weight to 275 pounds and her medication levels have been reduced.
The workshops have even helped her with her balance.
"I would stumble," she said. "I had to stop and grab on the walls and now I don't have that problem."
Though she admits she still has a long way to go, she said without the center she'd still be moving in the wrong direction.
"My weight would have increased," she said. "Or maybe I'd even be dead."
Information
The Wellness Center at Los Angeles County+USC Medical Center, 1200 N. State Street, Los Angeles. (213) 784-9191
This article was produced as a project for the USC Center for Health Journalism's California Fellowship.